Galvanizing our Energy Transition (G.E.T.) Solar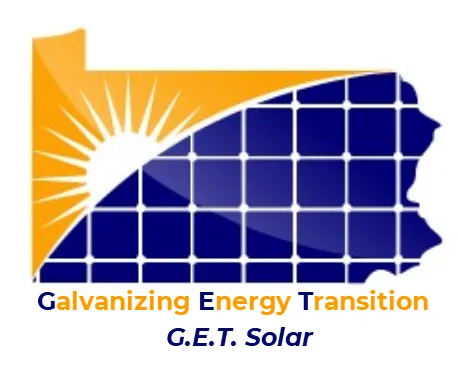 G.E.T. SOLAR ROUND FOUR NOW OPEN FOR BUSINESSES


Applications due Monday, March 1, 2021
Thursday, January 14, 2021: The Pennsylvania Solar Center is pleased to announce round four of our G.E.T. Solar (Galvanizing our Energy Transition) program wherein we provide technical assistance and financial guidance for organizations across the commonwealth looking to benefit from solar energy. The Solar Center understands that the process of installing solar can be daunting and is committed to supporting businesses and non-profits through each step along the way.
While we know many organizations are still grappling with the incredible challenges of the Covid-19 crisis, we believe that in times of crisis we must continue to think and plan for the future, to prepare our infrastructure for the next series of challenges that await.
We also believe that renewable electricity is paramount to sustainability, the ability for our systems and ourselves to prosper, to grow to, regenerate rather than deplete our resources – both natural and financial. Renewable energy (along with energy storage, energy efficiency and smart grid technologies) is also important to build a more resilient electric grid to increase the likelihood that our systems will endure in the face of adversity and disruption.
Organizations across the commonwealth have until Monday, March 1, 2021 to submit a completed application.
The full Request For Proposals (RFP) which outlines the goals and parameters of the G.E.T. Solar program can be found below. Round four will focus exclusively on businesses, but we do encourage tax-exempt organizations to reach out through our website as we will soon launch a separate program to address your unique needs. We encourage all interested businesses to fill out a prequalification survey below to get more information about your suitability for solar and to learn more about how the G.E.T. Solar initiative can help. Interested organizations should also attend our video conference webinars on Wednesdays, February 10 and 17, 2021 to learn more about the G.E.T. Solar and the financing options. See details below for the three easy steps to take.
1) Prequalification Survey
Not sure if your business or non-profit's property is right for solar? Fill out the pre-screening form  below and we will let you know if your property is a good candidate for solar and a good fit for the G.E.T. Solar program. We will also be able to answer any of your questions about the process of going solar generally and as part of our program.
We will respond to all surveys completed by Monday, February 22, 2021. The deadline for a completed G.E.T. Solar application is Monday March 1, 2021 at 5:00 pm and the pre-screening is not required to submit an application, but is provided to help you.
G.E.T. Solar (Round 4) Prequalification Survey
2) Join our Webinars to Learn More
Join the PA Solar Center on Wednesday, February 10, 2021 at 1pm for a short presentation to learn more about the G.E.T. Solar initiative and how it can help your business navigate the solar procurement process from start to finish. We will cover the basics of the program, information about all of the ways solar can be financed and made affordable–even for organizations with little or no up-front capital, and present an opportunity to ask questions. We encourage all interested parties to register in advance so that we can provide you with resources that may guide the discussion or prompt questions that can be answered on the call.
Join the PA Solar Center on Wednesday, February 17, 2021 at 1pm as we take a deeper look at the financing tools and resources available to Pennsylvania organizations pursuing solar electricity. By taking advantage of tax benefits at the federal and state level, as well as various grant and loan programs, organizations can recoup as much as 75% of their initial investment back in year one and/or prorate their investment out over a number of years. In C-PACE eligible counties, solar costs can be bundled with other infrastructure upgrades and be financed as a special tax assessment with no up-front costs and no affect on your line of credit.
3) Apply to G.E.T. Solar
a) Please review the G.E.T. Solar Request for Proposals (RFP) document found HERE.
b) Submit a completed application form along with accompanying documents (outlined in the RFP). The application form can be completed in one of two ways:
OR
---
---
G.E.T. Solar Resources
Request for Proposals (Round 4)
Download the full Request for Proposal (RFP) for a complete breakdown of the G.E.T. Solar initiative, including application requirements, solar procurement process, and timeline goals
Previously Recorded Webinars
General G.E.T. Solar (Round 2) Webinar was held February 26, 2020. View the recording of the webinar below to learn more about the program and the application process. 
C-PACE Financing for Solar (Round 2) Webinar was held on March 5, 2020. View the recording of the webinar below learn more about Commercial Property Assessed Clean Energy (C-PACE) and how it helps organizations finance solar with no money down.