G.E.T. Solar: Galvanizing our Energy Transition to Solar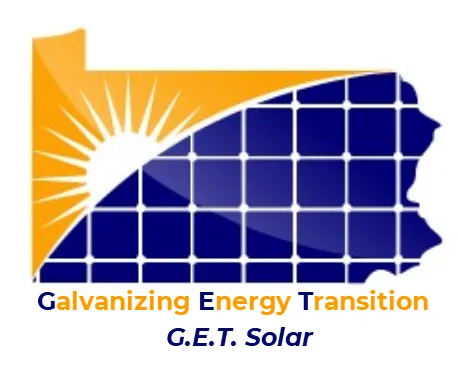 G.E.T. SOLAR ROUND SIX LAUNCHING JANUARY 2023

Businesses, tax-exempt organizations, and landowners will be invited to submit applications for Round 6 of our G.E.T. Solar (Galvanizing our Energy Transition) program wherein we provide technical assistance and financial guidance for organizations across the commonwealth looking to benefit from solar energy. The Solar Center understands that the process of installing solar can be daunting and is committed to supporting businesses and non-profits through each step along the way.
We believe that renewable electricity is paramount to sustainability, the ability for our systems and ourselves to prosper, grow, and regenerate our resources – both natural and financial. Renewable energy (along with energy storage, energy efficiency and smart grid technologies) is also important to build a more resilient electric grid to increase the likelihood that our systems will endure in the face of adversity and disruption.
The full Request For Proposals (RFP) for Round Five, which outlines the goals and parameters of the G.E.T. Solar program, can be found below. We encourage all interested organizations to fill out a prequalification survey below to get more information about your suitability for solar and to learn more about how the G.E.T. Solar initiative can help in advance of submitting an application. Interested organizations should also review our video web conferences below to learn more about the G.E.T. Solar and the financing options.
THREE EASY STEPS TO JOIN G.E.T. SOLAR!
1) Prequalification Survey
Not sure if your business or non-profit's property is right for solar? Fill out the pre-screening form  below and we will let you know if your property is a good candidate for solar and a good fit for the G.E.T. Solar program. We will also be able to answer any of your questions about the process of going solar generally and as part of our program.
Please feel free to complete the prequalification survey to get a high-level assessment of your property's solar potential. Prequalification is not required to submit an application to G.E.T. Solar. We will begin accepting applications for Round Six of  G.E.T. Solar in January 2023.
2) View our Webinars to Learn More
G.E.T. Solar Round Four Finance Webinar  (February 17, 2021)
View the video recording of this webinar HERE.
The PA Solar Center recorded this previous webinar on Wednesday, February 17, 2021, which shows a deeper look at the financing tools and resources available to Pennsylvania organizations pursuing solar electricity. By taking advantage of tax benefits at the federal and state level, as well as various grant and loan programs, organizations can recoup as much as 50% of their initial investment back in year one and/or prorate their investment out over a number of years. In C-PACE eligible counties, solar costs can be bundled with other infrastructure upgrades and be financed as a special tax assessment with no up-front costs and no affect on your line of credit.
3) Apply to G.E.T. Solar
Please review the current G.E.T. Solar Request for Applications (RFA) document.
The Request for Applications (RFA) document for G.E.T. Solar Round Six will be released in January 2023. The Round Five RFA from 2022 can be found HERE.
Submit a completed application form along with accompanying documents (outlined in the RFA) to leo@pasolarcenter.org.
The application form for 2023 can be found HERE.
---
---
Additional G.E.T. Solar Resources
Request for Proposals
Download the Round Five Request for Proposal (RFP) for a complete breakdown of the G.E.T. Solar initiative, including application requirements, solar procurement process, and timeline goals
Previously Recorded Webinars
General G.E.T. Solar (Round 2) Webinar was held February 26, 2020. View the recording of the webinar below to learn more about the program and the application process. 
C-PACE Financing for Solar (Round 2) Webinar was held on March 5, 2020. View the recording of the webinar below learn more about Commercial Property Assessed Clean Energy (C-PACE) and how it helps organizations finance solar with no money down.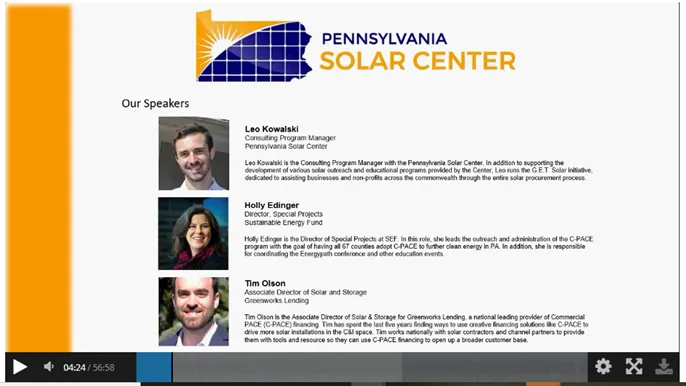 Benefits of Going Solar
Reduce your electric bill so that you can allocate more funds to programming or services to fulfill your organization's mission
Hedge against fluctuating and rising utility bills. Once the solar equipment is installed, your organization will have a steady and predictable cost of electricity for the next 20 years or more enabling you to reliably budget your electric bill from year to year.
Reduce climate and air pollution as well as health impacts resulting from fossil fuels. Solar energy reduces our reliance on fossil fuel-generated electricity that causes climate change and air pollution and subsequently, serious health conditions for resident of our communities.
Increase the positive perception of your organization. Solar energy demonstrates a commitment to environmental and community health and signals that your organization embodies these values. Going solar also reflects favorably upon your organization in the eyes of your employees and your constituents, clients and/or members and the larger community.