Expanding Solar in
Beaver County
Register Here

to join an informational webinar on Thursday, November 16th

to learn how your organization can get a free solar feasibility assessment and help going solar!

"Rural Innovation through Solar Empowerment" or RISE Project is a partnership between three nonprofits – RiverWise, Pennsylvania Solar Center, and New Sun Rising – that received $100,000 from the U.S. Department of Energy (DOE) to help Beaver County organizations in Justice40 communities go solar. Administered through the DOE's Energizing Rural Communities Program, the funds will help the partner team guide businesses, nonprofits, and other non-residential organizations in making the transition to solar energy and in joining the new clean energy economy. View the inspiring video submitted in RISE's application here.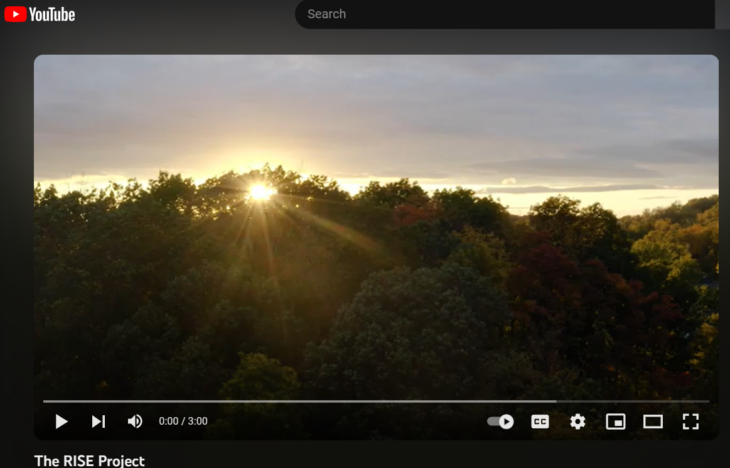 Justice40 communities are communities that over the years have been marginalized, underserved, and overburdened by pollution, and to which the federal government has pledged to direct 40 percent of the overall benefits of certain federal investments. In Beaver County, these communities include Aliquippa, Beaver Falls, Ambridge, New Brighton, Monaca, Midland, and Freedom; however, any nonprofit or business in Beaver County can enter into the program.
The team will work to identify at least 25 prospective solar energy projects in rural Beaver County, offering them technical support on everything from feasibility to finance, with the ultimate goal of placing at least 10 of these projects out to bid by Summer 2024. This process will also yield a Solar Justice40 Toolkit for local stakeholders. They will also deploy an engaging storytelling and marketing campaign, showcasing the potential and benefits of rural solarization at a few selected sites. RISE will culminate in a public event intended to celebrate progress, envision the future, and detail tangible next steps for actualizing identified project.
With the federal tax incentives and other state benefits for going solar, the cost of installation is now discounted by 30% or more and there are ways for some organizations to go solar with no money down. Solar is a smart financial investment that will save your organization thousands of dollars and will provide a stable energy price for 25 years or more.
Apply to GET Solar!
We encourage any Beaver County nonprofit, business, municipality or other tax-exempt entity to join The Rise Project and get a free solar estimate by filling out the simple pre-qualification survey below (under #1) or complete the application form found here and email it to the Director of Programming, Leo Kowalski at leo@pasolarcenter.org.
We guide your organization through four steps to complete your solar installation, throughout which we serve as a trusted partner and steward. We will do the heavy lifting so that your organization or business can dedicate your time and resources to best serve your mission.

1.) Basic Solar Feasibility – Pre-qualification Survey
Fill out the pre-screening form below and we will let you know if your property is a good candidate for solar and a good fit for the GET Solar program. We will also be able to answer any of your questions about the process of going solar generally and as part of our program. The GET Solar team provides a high-level design and analysis of your property's solar opportunity. We estimate the potential production of a solar installation as well as the costs and benefits. We provide basic solar education; discuss the process of going solar; and identify basic financing strategies, including existing federal tax benefits, available grants, and loans. Once we complete this preliminary feasibility study, we will also need a complete, recent copy of your electricity bill.
2.) Request for Proposals (RFP)
The GET Solar team solicits design proposals from vetted, regional solar developers through an unbiased, competitive bidding process. The GET Solar team works with you to compile necessary documentation and engages directly with solar developers on your behalf, from organizing site visits to compiling submitted proposals. We solicit and organize the proposals so that they can be reviewed in an apples-to-apples fashion.
3.) Review and Compare Proposals
The GET Solar team helps you review the proposals you received through the RFP, providing education and support in understanding the opportunities being presented. As an unbiased consultant, we ensure you have the tools and knowledge to make the best decision for your organization, but do not influence the selection process.
4.) Financing and Implementation Support
Once your organization has selected the solar developer/proposal that best suits your organization's needs, the GET Solar team works with you to develop a comprehensive financing strategy. We can assist your organization in identifying grants and funding opportunities while connecting you with lending organizations or financial partners. While we remain a collaborator through the contract and installation of the system, the selected solar developer becomes an invaluable partner in assisting your organization to maximize the value of your solar, including setting up a plan to commodify your Solar Renewable Energy Credits (S-RECS) and providing an operations and maintenance plan to protect your solar asset.
View our Webinars to Learn More
Join an upcoming monthly GET Solar informational webinar and workshop:
Register Here to join us on Thursday, November 16th, 2023
Register Here to join us on Thursday, December 14th, 2023
Register here to join our SolarCorps and map Beaver County's solar potential on Wednesday, November 15th!
View a previously recorded GET Solar webinar:
The PA Solar Center recorded this webinar on Thursday, September 14, 2023, which discusses why it is a good time to go solar, provides information about the GET Solar initiative, and takes a cursory look at the financing tools and resources available to Pennsylvania organizations pursuing solar electricity. By taking advantage of tax benefits at the federal and state level, as well as various grant and loan programs, organizations can recoup much of their initial investment back in year one and/or prorate their investment out over a number of years. In C-PACE eligible counties, solar costs can be bundled with other infrastructure upgrades and be financed as a special tax assessment with no up-front costs and no effect on an organization's line of credit.
---
Solar Example: The Community College of Allegheny County (CCAC) successfully went solar last year through the GET Solar program. It will save them an estimated $750,000 in energy costs over the next 28 years. The best part? Thanks to a specialized and simple financing package, CCAC didn't have to put any money down for the project!
---