G.E.T. Solar for
Non-Profits & Tax Exempt Organizations
G.E.T. Solar for Nonprofits will be back in 2021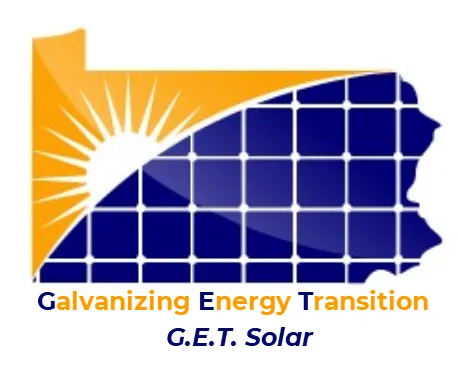 Does your organization or business need help going solar?
The Pennsylvania Solar Center will be launching a round of the G.E.T. Solar initiative dedicated to supporting tax-exempt organizations in early 2021. Keep an eye on this space for updates and announcements.
---
---
G.E.T. Solar Resources
Request for Proposals
Download the full Request for Proposal (RFP) for a complete breakdown of the G.E.T. Solar initiative, including application requirements, solar procurement process, and timeline goals.
Webinars
General G.E.T. Solar Webinar was held February 26, 2020. View the recording of the webinar below to learn more about the program and the application process. 
C-PACE Financing for Solar Webinar was held on March 5. View the recording of the webinar below learn more about Commercial Property Assessed Clean Energy (C-PACE) and how it helps organizations finance solar with no money down.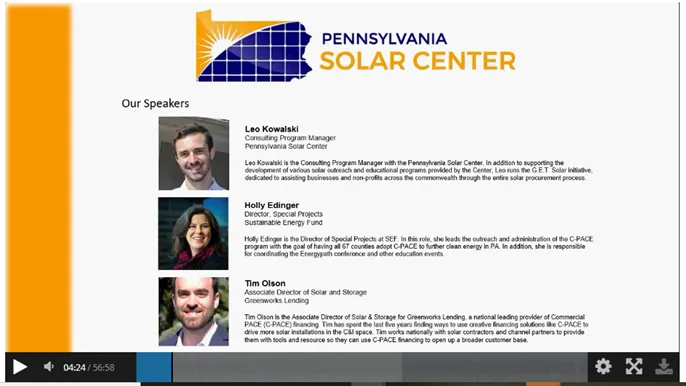 Benefits of Going Solar
Reduce your electric bill so that you can allocate more funds to programming or services to fulfill your organization's mission
Hedge against fluctuating and rising utility bills. Once the solar equipment is installed, your organization will have a steady and predictable cost of electricity for the next 20 years or more enabling you to reliably budget your electric bill from year to year.
Reduce climate and air pollution as well as health impacts resulting from fossil fuels. Solar energy reduces our reliance on fossil fuel-generated electricity that causes climate change and air pollution and subsequently, serious health conditions for resident of our communities.
Increase the positive perception of your organization. Solar energy demonstrates a commitment to environmental and community health and signals that your organization embodies these values. Going solar also reflects favorably upon your organization in the eyes of your employees and your constituents, clients and/or members and the larger community.

To help you through the solar procurement process, PA Solar Center can:
Conduct an initial intake visit with you to evaluate your solar needs
Prepare and issue a Request for Proposal to identify a qualified solar contractor
Link you with financing and/or investors
Connect you with legal, engineering and technical assistance, if needed
Help guide you through Power Purchase Agreement negotiations with the solar developer and investors
Act as a trusted advisor and coach throughout the process
Help you run a crowdfunding campaign with your employees, members and constituents, if you want to purchase the system outright
Explore other financing models with you
Services that PSC offers:
Because tax-exempt organizations cannot take advantage of the tax benefits that for-profit businesses can, the cost of solar is about 40-60% higher than for a business. Linking your organization with businesses or investors who can take advantage of the tax benefits, can help your organization go solar with little or no money down.
A Power Purchase Agreement (PPA) allows a for-profit business or investors to essentially "rent" or "lease" your rooftop or other property. The for-profit organization owns the solar system and installs the system on your property. You then pay them for the power generated from the solar system on a monthly basis just as you would the utility. Usually the price for this power is somewhat less than what you currently pay the utility company for electricity. The PPA is usually for 10, 15, or 20 years. Some Some PPAs will also permit the for-profit business to donate or sell the system back to your organization for "fair market value" after about 7-10 years (after they have received the tax benefits).