The LodeStar Award
The word Lodestar historically referred to a star used in navigation but now connotes an entity that is leading the way. With the Lodestar Award, the PA Solar Center recognizes the inspirational leadership of Pennsylvania-based organizations and businesses that are demonstrating leadership throughout the diverse field of solar energy. The solar energy industry touches a wide swath of the economy from the manufacturing and supply chain and the installation of solar, to the people who choose to invest in solar and those that operate and maintain the technology as well as the ancillary and co-beneficial industries such as Agrivoltaics. Solar energy saves organizations, businesses, homeowners, and communities money and employs people across all educational levels in every county of Pennsylvania, producing ripple effects in the economy of rural, suburban, and urban communities across the Commonwealth.
In addition, we understand that organizations or businesses that have gone solar and sell their solar renewable energy credits (SREC) or are under a power purchase agreement with a third party in control of their SRECs are not permitted to claim that their facilities are powered with solar. With the Lodestar Award, these organizations can publicly display their dedication to solar energy and show that their company or organization is a luminary in solar energy, without violating the rules around claiming environmental attributes.
We hope that organizations and businesses will accept our award and display it on their website as a badge of pride in solar advancement and also as an inspiration for others to do the same.
If your organization and business is interested in receiving the Lodestar Award, please contact us at info@pasolarcenter.org and we will respond with the virtual "award" and information about displaying the Lodestar logo on your webpage or social media.
In addition, be sure that your project is included on our solar installation map.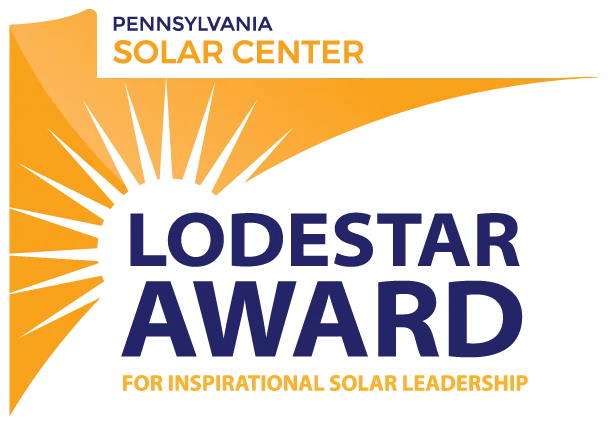 Lodestar Award Ceremonies
Northcentral Pennsylvania
Our first Lodestar Award Ceremony will honor leaders in solar energy from northcentral PA (look out for upcoming Lodestar Award ceremonies in other regions). Please REGISTER HERE to join us on Feb. 11 from 4:30-6:00 PM to honor the following organizations, institutions, municipalities and businesses:
BAI Group
Burkholder's Market
Centre County Board of Commissioners
Envinity
Happy Valley Vineyard & Winery
KOA Campground
Milheim Borough Council
Organic Climbing
Owens Family Farm
Sun Directed
Speakers include:
Dr. Paul Shrivastava, Chief Sustainability Officer at The Penn State University
Caroline Owens of the Owens Family Farm whose sheep graze the Susquehanna University solar field