Solar Policy and Advocacy Network
Policy Matters!
Policy drives investment in solar energy across the nation. States with strong solar policy see larger adoption of solar energy systems, more private investment and many more people working in the industry than states with weak policies.
While Pennsylvania was once the 4th leading solar state, it has dropped to 22nd because of lack of leadership in Harrisburg.
The Pennsylvania Solar Center works with solar companies, solar owners and advocates across Pennsylvania to educate legislators and decision makers about sound policies that will help our state's citizens, businesses and communities take advantage of solar energy, to grow our economy with clean, renewable energy and produce family-sustaining jobs.
Trying to keep track of all the solar legislation in Pennsylvania?
Refer to our handy Solar Legislative Guide and quick reference guide for key bills!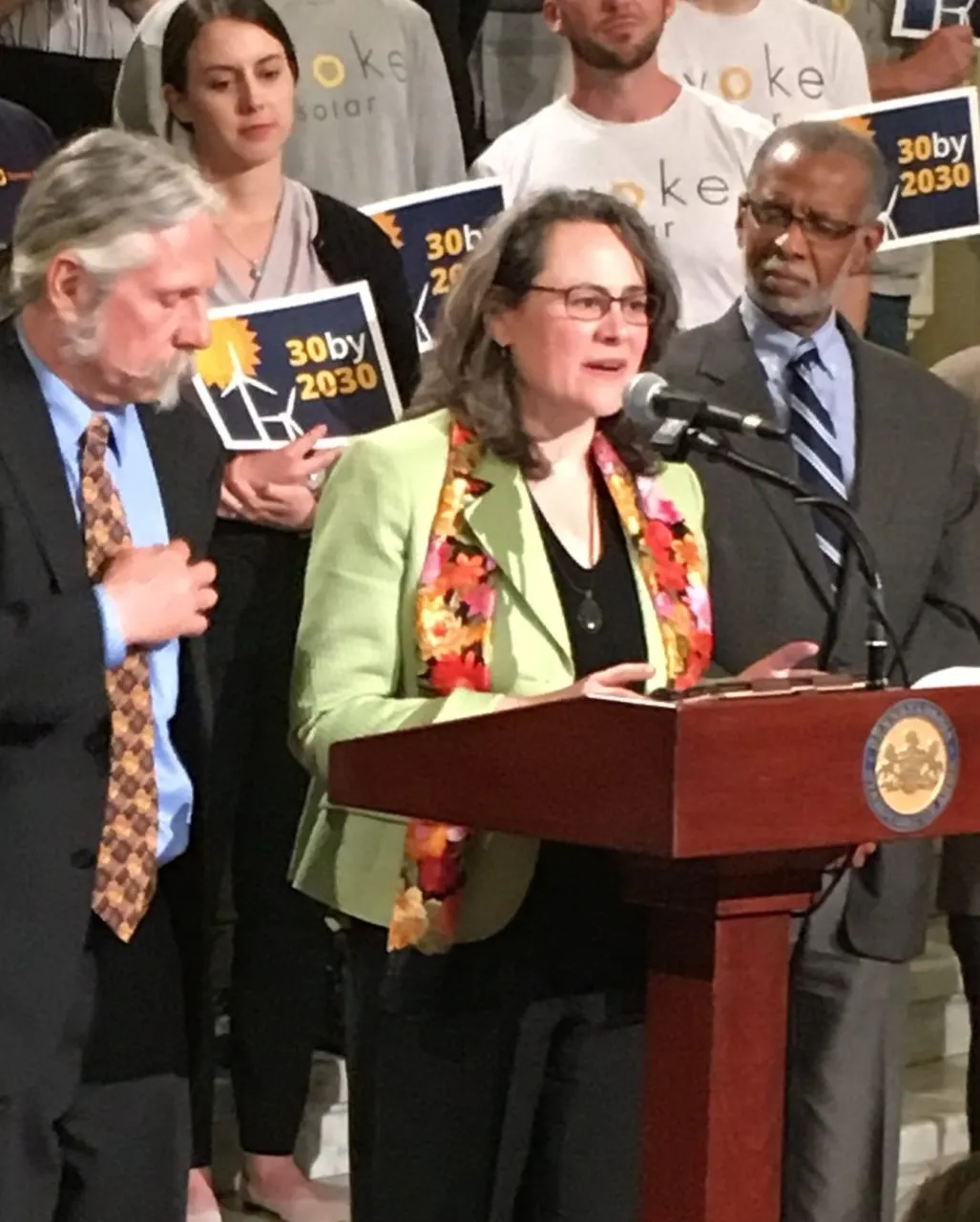 Do you think that 0.5% solar is enough for Pennsylvania?  Or do you want more?
It's time to share your thoughts with our legislators.
There are several bills in the Pennsylvania General Assembly that will raise the renewable energy goals in the state that are set to flatlined on May 31, 2021 and won't increase without action!
Bills like HB 1080/SB 501, if passed, are projected to create upwards of 50,000 jobs or more, attract billions in private investments, diversify our energy goals and save family farms. For current and future solar owners, these bills would likely increase the value of the renewable energy credits that help to pay for the solar systems.
FIND YOUR LEGISLATORS HERE –
Call, write, or visit your legislators and tell them how you feel.
If you call them, send them a letter or an email, please let us know about it by filling out this quick form.
Need help? – Watch the webinar with Phyllis Blumberg, our Solar Ambassador Facilitator who led participants through a letter writing exercise.
For more background information, check out the PA Solar Center infographic FINAL energy as a path topasolarcenter.org/…/PA-Solar-Center-infographic-FINAL.pdf economic recovery.
Our Solar Policies Today
Current Pennsylvania laws that benefit solar include:
Alternative Energy Portfolio Standard (AEPS) of 2004
Net Metering
Act 40 of 2017 (closing the "borders" so all solar in the AEPS must come from in-state solar)
What Policies Do We Still Need?
Increase the solar requirement of the AEPS
Legislation that will allow Community Solar
Sales Tax Exemption for Solar Energy Equipment
What YOU Can Do!
1) Sign up for our Action Alerts here.
2) Contact your state legislators to tell them that you would like more solar energy in Pennsylvania. Find your State Legislators here.